It is impossible that a person will never be rejected in his life. At some point or another, it affects us all. Rejections are a part of your life, you can't avoid it. Rejections can hurt but they also have their significance. If you are afraid of rejection you are holding yourself back and missing on a lot of opportunities. This blog features various aspects related to Importance of Rejection in life.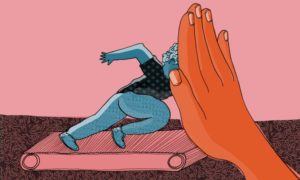 Why Does Rejection hurt so much?
Have you ever wondered why we always feel grumpy about rejections? Well, there are a lot of psychological reasons behind it. Did you know the pain from rejection is the same as physical pain? Yes, that's true. There are a few studies that show that both activate the same area of the brain. It creates a sense of anger and stress and it destroys our confidence and self-esteem. There is an increased doubt on your capabilities. Sometimes rejection stimulates your experience of past feelings hurting you even more.
It hurts but it is important to rise above to discover the opportunities it brings with it. It is God's way to tell you that you are heading in the wrong direction.
Importance of Rejection
The rejection sometimes teaches us a lot about life and ourselves. Through facing rejections, we can learn better about the perspectives of world and our efforts to achieve a certain path or goal. We might get rejected for lot of reasons, be it a job interview or a business meeting. At any aspect it does gives us bad feeling but it makes us stronger to cope up with challenges and to come back with better learnings.
Ways to Cope Up with Rejections!
Be Positive: Stay positive when you are rejected, Don't let the negative feelings overburden you. Talk affirmative to yourself. It makes us stronger.
Want to know more about a positive mindset, Here is a blog on how you can be positive
Work On Yourself: It is possible that you give your best but you still get rejected. Make peace with it. Try to find things where you went wrong and work on it. If it's a new skill you lacked, learn it.
Patience: It is very important to be patient. Good things take time. Don't get frustrated easily, wait for the right time for things to happen. Let it flow.
Motivation: Take the rejection as your motivation to do better in the future. It feels like a full stop but it is a beginning.
Discover new things: It gives you a chance to rethink and discover new paths that can possibly be better for you.
Every Negative thing has a positive outlook with it and every positive thing brings along a negative. It is significant to know the difference and overlook the negative aspects. Focus on the positive to bring positivity in life
The next time you get rejected for something good, Remember something better is waiting for you ahead.