Want to explore new places to travel in India after lockdown? we had a lot of plans made for 2020, but then someone ate a bat and ruined all our plans, giving us this pandemic. But now as the lockdown is opening gradually, we are getting another chance to fulfill our plans, but obviously with precautions
With the rising cases of Coronavirus, people are arguing and urging to stay at home and avoid traveling, some are still planning and getting their bags ready for a much-needed break to another city.
Even though along with the visitors, the businesses are also awaiting a full go on the traveling, but still, there are a lot of restrictions in different states, like carrying a Covid negative test report taken in the last 72 hours, mandatory quarantine even if coming for a few days, getting an e-pass for entering the state, etc. The Hospitality and Tourism sector has taken a major hit in this pandemic and is nervous and desperate to return to normal lives. There are tons of places to travel in India after Lockdown.
Many State Governments have released a set of rules according to the situations in their states, but still, eventually, they have started traveling after checking and adhering to the rules and precautions, both for national & international travels.
Right now, one might be able to travel as there are fewer tourists, only local and domestic tourists are there. So, for those who like less chaos, this is the best time to travel.
Here are some places you can travel to after adhering to some rules and precautions:
Domestic Destination to Travel in India After Lockdown
Be ready to travel in India after lockdown by following safety measures and precautions
1. Sikkim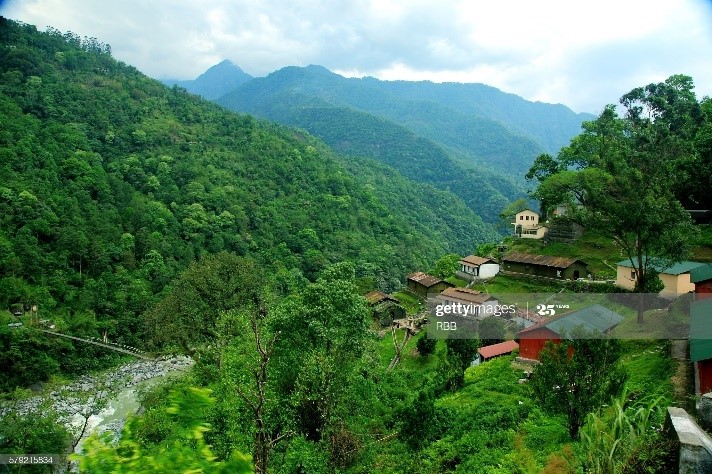 Source: Getty Images
Sikkim is a beautiful and peaceful place to visit after the lockdown, good to travel. Truly an astonishing and charismatic place in the Himalayas, it will leave every visitor in love with its beauty. It has a blend of all, from lush green forests to serene rivers, to national parks, and exciting adventures, this is a must and safe visit after Coronavirus.
2. Himachal Pradesh
Source: Getty Images
If you're looking for weekend travel or a long stay Himachal Pradesh is a beautiful place to stay and spend time there. Chail Hills is a beautiful place to enjoy the greenery and the breath-taking view of the hiker's paradise. It will be a different journey and experience altogether when you hike and camp in the dense forests. Major attractions in Himachal Pradesh include Dharamshala, Manali, Mcleodganj, Shimla, Kufri, Chail, Dalhousie, Chamba, Khajjiar, and Kasauli. Indeed the mountains are the best place to travel to India after Lockdown.
3. Meghalaya
Source: Getty Images
A peaceful place to go for a short getaway, it is one of the most attractive states in Northeast India to travel. The place is a blend of sites, adventures, activities, food, and festivals. From the capital Shillong's royal architecture and beautiful lakes to the monsoon dwelling Cherapunji to Asia's nearest village, Mawlynnong, and much more, here you will have so much to explore for traveling and relax after COVID 19.
4. Nagaland
Source: Getty Images
The hilly state of Nagaland will take all your worries away, with its charming beauty, history, and tradition. it would be a great option to travel. Nowhere else in the world will you find such a diverse state full of wonderful experiences awaiting like, various festivals, tribes, and their rich culture, their traditional villages, attractions, beautiful dance forms, landscapes, and many other gifts of nature.
5. Madhya Pradesh
Source: Getty Images
This place is worth a visit if you love to travel and exploring the wild and wildlife. Beautiful temples and amazing national parks and sanctuaries are in Madhya Pradesh. Some famous ones include, Bori Sanctuary and Satpura Tiger Reserve in Bhopal, Kanha Tiger Reserve, Bandhavgarh National Park, Bhimbetka rock shelters, temples at Khajurao, a most prominent one being Kandariya Mahadeva, a temple with more than 800 sculptures, many noted Bengal tiger sanctuaries and many more. Do plan a trip to Madhya Pradesh, if you're all about adventure with a touch of history. Major attractions include Amarkantak, Pachmarhi, Kanha, Ujjain, Gwalior, Panna,
and Bandhavgarh.
6. Rajasthan
Source: Getty Images
A place to travel for all the heart and history lovers out there, the Land of Kings is the right place for you. Every place, nook, and corner have something to please the wandering souls in the place brimming with the legends of royal glory. Beautiful forts, palaces, national parks, manmade lakes, bazaars, and stepwells, intrigue one and all from around the world. Also, this popular known desert state has also a hill station – Mount Abu, which is worth the visit. Major attractions include Jaipur, Jodhpur, Jaisalmer, Udaipur, Pushkar, and Ranthambhore.
7. Goa
Source: Getty Images
When it comes to Sun, Sand, Sea, nothing can beat Goa. A place to travel when you love beaches and adventure, plan a trip here if you want to admire the beautiful state and horizon, participate in water sports and adventures, and indulge in hippie spirits and party, this place has something for everyone. Plan an escape to this place in monsoons for the best experience. Major attractions include Calangute beach, Basilica of Bom Jesus Church, Chapora Fort, Baga Beach, Dudhsagar Falls, and Anjuna Beach.
8. Uttarakhand
Source: Getty Images
The Land of the Gods or Devbhumi has some of the most revered Hindu shrines. Gangotri and Yamunotri with Kedarnath and Badrinath form the Chota Char Dham that fascinates the tourists and pilgrims, paying a visit at least once in a lifetime. Further, traveling to Mussoorie and Dhanaulti will add to another beautiful experience of mountains and hills, forests, and beauty. Major attractions include Rishikesh, Haridwar, Jim Corbett, Nainital, and Dehradun for a beautiful trip to the mountains. Here we are sharing some tips to travel to India after Lockdown.
Precautions to take while traveling during the Coronavirus disease outbreak –
Wear a mask at all times.
Wash your hands and use an alcohol-based sanitizer frequently, especially after contact with respiratory secretions. Always keep a sanitizer handy.
Maintain social distancing at all times.
Avoid eating out in public places and follow proper hygiene practices. If you have to eat outside, maintain social distancing, and eat freshly prepared food and be sure about hygiene.
Disinfect your car and anything you come in contact with while traveling.
Travel light and book your stay only at those places where proper hygiene measures are taken, and chances of coming in contact with others are low.