"FASHIONS FADE, STYLE IS ETERNAL"

– Yves Saint Laurent
What better example than a pandemic to prove the above statement? No matter what comes in the way, fashion lovers will always dress up their way just for the sake of 'dressing up', and that's what keeps them going, isn't it? So, if you're a fashion lover just like me and want to have a quick overlook on fashion during this pandemic and also need some tips and tricks then this blog is totally for you.
We've all gone through hard times where we struggle finding our perfect piece of cloth be it for a date, meetings, family functions and the list is never-ending. But never in our dreams, we thought that a time like this would come. No one really knows that when this pandemic will end but one thing is for sure that this whole COVID-19 situation is going to change our lives completely and fashion will be no exception.
Just like all the industries, the fashion industry is also making its way to come through but since we Indians tend to have multiple solutions to every problem, I believe we might have something for this one as well, and I am here to share mine.
MASKS AND GLOVES 
Well, we never thought of using the word 'safety' when it comes to fashion but hey we have got to play safe! Masks and gloves are not leaving us anytime soon, so let's shape them in style. Although there are so many brands that have started offering us matching masks and gloves. There's no harm if we can make them on our own since we spend most of the time at home, it will be fun to do so.
BANDANA MASK
STEP 1 – Take an oversized cotton bandana, we need to create multiple layers of the mask by folding the bandana.
STEP 2 – Tale one of the bandana's side and start folding it. Adjust the width enough to cover your nose and mouth.
STEP 3 – Then take two rubber bands or hair ties and loop them on each end of the bandana.
STEP 4 – Again fold both the ends inside and tack one of the sides into the other end of the bandana as shown below.
MAKING USE OF SCARVES
We all have scarves at home which we usually wear around our neck and it's time to include them into street style looks but hey in a different and a safe kinda way!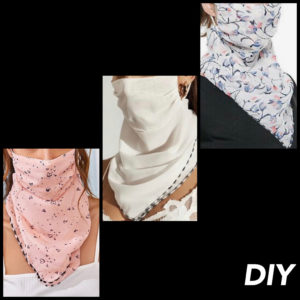 To all the men reading this, don't worry we have a tip for you as well.
You can simply use your handkerchief and turn it into a mask with the same steps mentioned above.
HIJABS 
Well, we all are aware of hijabs and the elegancy it carries and using it in this time will only set the bar high for all the fashionistas.
INDIAN COUTURE 
Indian styles and the fashion invented here has its own perks and in this time we can frame it into the most stylish, safest and trendy ways. We can simply use a dupatta by covering our faces and since it's already a match with the outfit, it's like a cherry on the cake and we are all ready to flaunt it. Our Indian culture has so much to offer and honestly, it can be framed into whatever you feel like, so now is the time we make it trendy once again being safe!