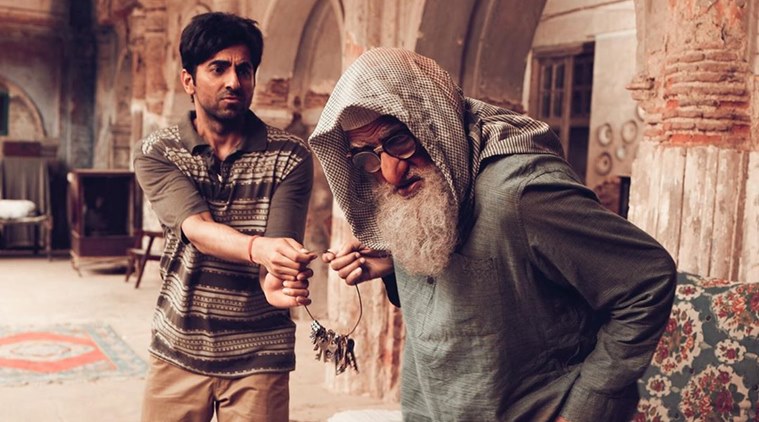 'Gulabo ki khatar-patar se titar-bitar sitabo, sitabo ke agar-magar se uthal-puthal gulabo'
The tongue twister reflects the chumminess of the characters and the storyline of the much-awaited film "GULABO-SITABO". As cinema halls have become the thing of past due to the lockdown, The film was released on amazon prime video to enthral audiences with the comedy yet emotional sequence. The two actors Amitabh Bachchan(as Mirza) and Ayushmann Khurana(as Baankey) shared the screen for the first time and did not fail to get along.
Shoojit Sarkar's direction focused on the ordinary men has shown the real essence while the script by Juhi Chaturvedi has definitely tried to indulge the emotion of sentiments. The script very well captures the lucknavi style saga. The story revolved around 'Fatima Mahal' which is the spine of the film and Mirza(the owner) a 78-year fussy man and its tenants(baankey and others). Both of them showed greed and stood stubborn throughout the film while the expression and characterisation played a very subtle role.    
Mirza is always involved in a fight with Baankey who lived with his mother and three sisters in a room and pays only Rs.30 as monthly rent which seemed to be an actual issue. On the other hand, Mirza waited for his Begum to die so that he can own the haveli. With all the disputes going in the Haveli enters an archaeologist(Gyaanesh Shukla) who gets Baankey in his confidence and tries to get the Haveli for his interest. On the other hand, Mirza is guided by a lawyer(Christopher Clark) who assures him to get him his haveli back but was working for his profit either. Both of them(Mirza and Bankeey) showed greed and stood stubborn throughout the film which was a perfect element of humour for audiences.
With all the confusion and funny fights, the movie revolved with mild humour and well-crafted satire. The direction was done in Old Lucknow with beautiful picturization. The makeup is to the point of giving Amitabh Bachchan a different look and indifferent expressions will take you for a surprise.